PEPPER project milestone reached in February 2017: first prototype completed on schedule.
The Horizon 2020 PEPPER project has reached the end of its first year, culminating in a key achievement. A major project milestone has been reached with the completion of the first prototype. The system development was based on a thorough analysis of the needs of key stakeholders including patients, clinicians and carers. Each of the safety-critical components has now been tested using the UVA/Padova T1D simulator. The project coordinator, Dr. Clare Martin, said : "This is a crucial step for PEPPER. We are now ready to conduct feasibility studies on patients to test the safety and usability of the system. The results of those tests will inform the design of the final system, due for completion in February 2018, ahead of the full clinical trials later that year."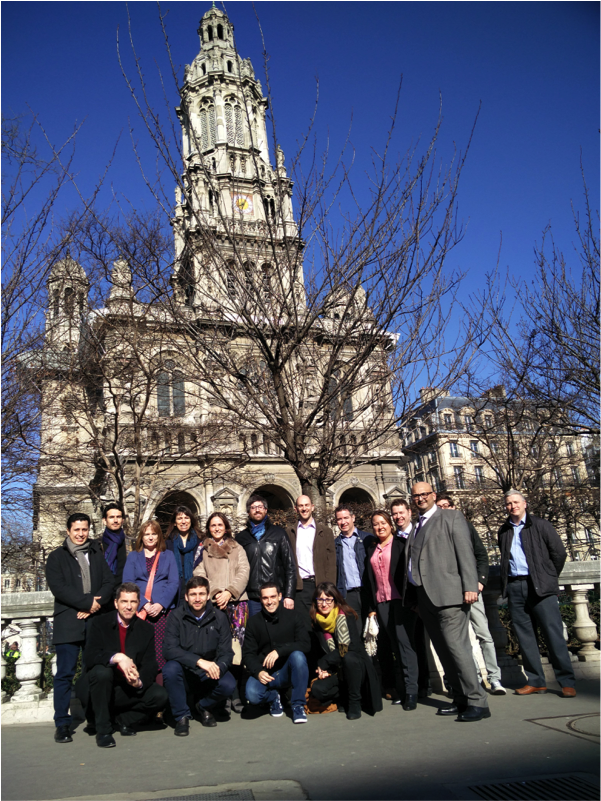 The PEPPER team in front of the Eglise de la trinité, closeby Cellnovo headquarters.
The system was demonstrated to the Innovation Advisory Board (IAB) during the project meeting at the Cellnovo premises in Paris in February 2017. The IAB is comprised of individuals with Type 1 Diabetes, as well as representatives of Diabetes UK, the Juvenile Diabetes Research Foundation (JDRF), Sociedad Española de Endocrinología y Nutrición and the Nightscout Foundation and #WeAreNotWaiting patient community. The board provided valuable feedback, which will influence the design of the training procedure and subsequent prototypes. IAB member Tim Omer said : "As we capture higher quality and quantity of data about our condition, it is refreshing to finally see progress in assisting the patient with analyzing this data to provide actionable feedback to reduce the burden of Type 1 Diabetes". Carol Wheeler said: "Genuinely emotional meeting all of the people involved in this project. As a type 1 diabetic I found the demonstration of the system very exciting. The idea of using scenario comparisons as the basis for suggested actions to the patient is hugely encouraging since it aims to automate the decision making process I am responsible for on a daily basis. Something that lessens that load is huge!"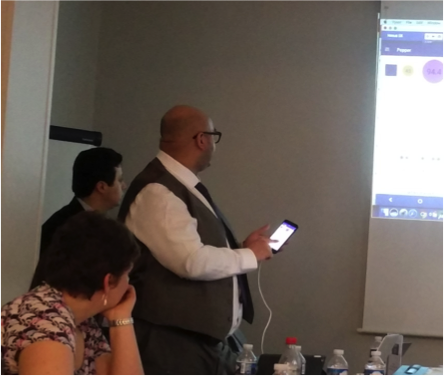 Nasir Shiraz, Cellnovo handset developer showing to the IAB the prototype functionalities.
The project meeting was co-located with the Advanced Technologies and Treatments for Diabetes conference (ATTD 2017) in Paris. The consortium used this opportunity for dissemination via a poster as well as distribution of the newsletter and flyers.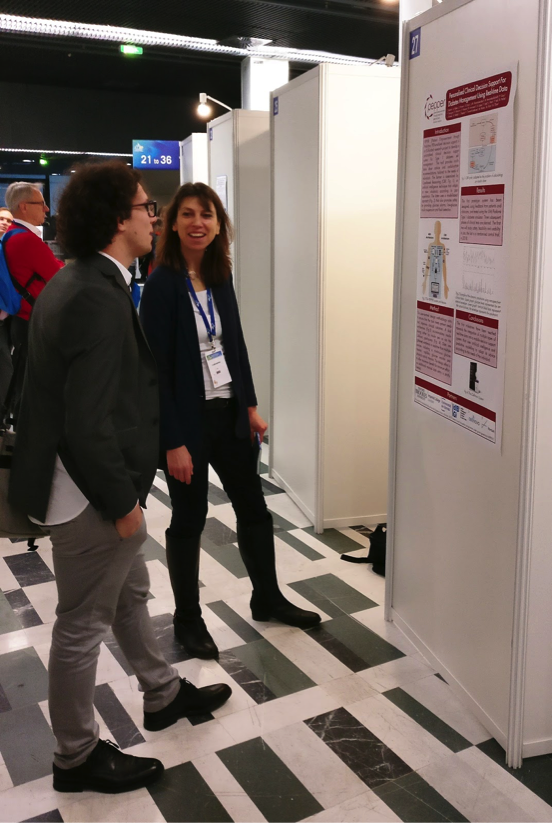 Clare Martin, introducing PEPPER to the interested audience at the poster session in the ATTD 2017.